Giddings Economic Development Corporation (TX) Launches Redesigned Website Empowering Growth & Success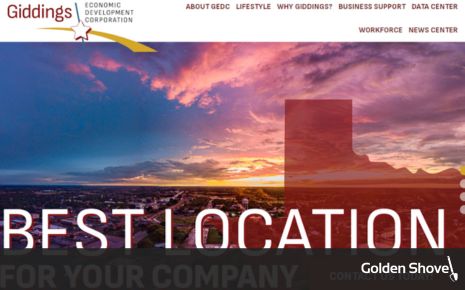 1 Aug 2023
News, Website Development, Recent Work
Unleashing Opportunities for Economic Growth in Giddings Texas
GIDDINGS, TX -- Giddings Economic Development Corporation is pleased to announce the launch of its redesigned website, developed in collaboration with Golden Shovel Agency, to enhance its online presence. Located at https://www.giddingsedc.com/, the new website has a very bright and clear display while being easy to navigate between different pages and articles. You can quickly find any information you seek at the click of a button.
Giddings is a small town but ambitious to compete alongside larger cities. Amanda Casey, EDC Coordinator, had a lot of goals for the redesigned website. "The website embodies the vision of a bright, crisp, and modern platform that reflects the essence of Giddings. With a focus on being eye-catching, user-friendly, and engaging, the site aims to captivate users while showcasing the community's deep pride in Giddings. In a highly competitive landscape, this online platform is a testament to our commitment to excellence and our determination to empower growth and success for all stakeholders."
The website captures the essence of a vibrant community, emphasizing untapped potential as a hub for growth and opportunity. Giddings embodies the unique combination of strategic location and small-town charm near major cities.
Giddings Economic Development Corporation's redesigned website is tailored to appeal to residents considering relocating from larger populated areas. It also appeals to businesses seeking a second location or wanting to relocate for lower operating costs in a small city.
"The Golden Shovel team was honored to work with the Giddings Economic Development Corporation on this website project," said Aaron Brossoit, CEO of Golden Shovel Agency. "The new site will be a great asset for businesses and talent to understand the regional opportunities."
You can view the newly designed website at https://www.giddingsedc.com/.
###
GIDDINGS ECONOMIC DEVELOPMENT CORPORATION is a rural community in the heart of Central TX, the state's most populated region. Its convenient location is ideal for businesses serving the growing Austin and Houston markets - both easily accessible from Highway 290 - and for those seeking to benefit from the region's land grant universities, skilled workforce, affordable commercial sites, natural resources, and customer base. Giddings EDC supports existing businesses and those seeking to launch or locate a business in the city. By providing site selection assistance, incentives, and hands-on project support, such as assisting with business plan development and connecting clients with resources, we make it easy to grow a business in a community known for its friendly and inclusive environment.
GOLDEN SHOVEL AGENCY is a full-service economic development marketing agency that believes thriving communities improve everyone's lives. Everything it does connects businesses and talent with communities they'll succeed. It does this by empowering economic developers through groundbreaking economic development communications. Golden Shovel has helped hundreds of communities across the globe shape and tell their stories to strengthen the vitality of their regional economies.