Pflugerville Community Development Corporation Launches Informative, User-Friendly Website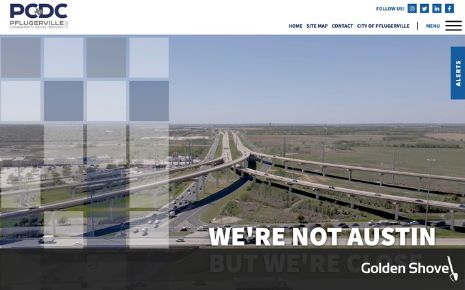 29 Jun 2022
News, Recent Work, Website Development
Redesigned Website Speaks to Community and Site Selectors
PFLUGERVILLE, TX -- Pflugerville Community Development Corporation (PCDC) recently launched a redesigned website created by Golden Shovel Agency to strengthen its online presence further and foster economic growth. The website features much of the organization's content on the homepage, and visitors can find anything they want to learn about the city or organization.
Another popular feature of the redesigned site is the site selectors' toolbox. It allows information to be front and center and helps site selectors find information regarding available locations and the community.
"The goal of the redesign was to have ease of access for visitors," said Veronica Ramirez, Marketing Communications Manager at PCDC. "We know that online, an organization only has a few seconds, or a few minutes if you're lucky, to capture a visitor's attention, and having the most significant content at the top of the website is important."
Pflugerville offers a strong and diverse workforce, with Pflugerville's location as a hub between major highways I-35, SH-45, and SH-130, which provide quick access to major metros Austin, Dallas, Houston, and San Antonio. It is also centrally located between Tesla's new giga-factory, Amazon, and Samsung in Taylor, as well as only minutes from downtown Austin and proximity to two airports: Austin-Bergstrom International Airport and Austin Executive Airport. The website showcases these stats in a mapping feature and displays them throughout the site.
In addition, this project will improve marketing efforts by allowing PCDC to point potential businesses to the website to quickly find the information they are looking for in terms of available properties and community demographics.
"We've enjoyed working with the PCDC team over the years," said Aaron Brossoit, CEO of Golden Shovel Agency. "The redesigned site will continue to be a great asset for members and site selectors to understand opportunities in the area and demonstrates their economic growth potential."
You can view the newly redesigned website at https://www.pfdevelopment.com/
###
PFLUGERVILLE COMMUNITY DEVELOPMENT CORPORATION is the organization charged with promoting the economic development of Pflugerville. It accomplishes its mission by marketing Pflugerville as a desirable place for new businesses to operate and by assisting existing businesses and addressing their needs. The PCDC can also provide funding for use as incentives to companies to begin doing business in Pflugerville and also to construct needed infrastructure such as roads, utilities, and drainage projects. The PCDC also provides funding for parks and recreation projects in the city.
GOLDEN SHOVEL AGENCY is a full-service economic development marketing agency that believes thriving communities improve everyone's lives. Everything it does connects businesses and talent with communities they'll thrive. It does this by empowering economic developers through groundbreaking economic development communications. Golden Shovel has helped hundreds of communities across the globe shape and tell their stories to strengthen the vitality of their regional economies.