The Development Council for Buffalo County (NE) Launches New Website With Valuable Information to the Public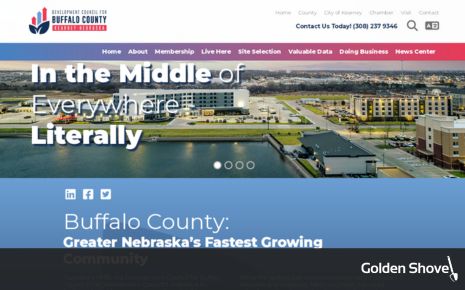 7 Jul 2023
News, Recent Work, Website Development
Paving the Way for Steady and Calculated Growth in Kearney and Buffalo County
Kearney, NE -- The Development Council for Buffalo County is pleased to announce the launch of its new website, developed in collaboration with Golden Shovel Agency, to enhance its online presence. Located at https://www.growbuffalocounty.com/, the new website displays vibrant colors aligning with the organization's recent rebranding efforts. The site also features a news center that presents the long history of collaboration with surrounding communities, the county, business community, and other nonprofit organizations. Trevor Lee, Executive Director of the Development Council, said, "There are always great things happening in Kearney and the surrounding area, and the website allows us to connect our success with a genuine willingness to partner for the greater good of our communities, residents, and businesses."
Trevor emphasized numerous goals of the new website. First, he wanted to modernize the organization's online presence and revitalize its dormant appearance on major social media platforms. The website is an excellent hub for these spokes. In addition, it was crucial to have a one-stop shop for all users while avoiding duplicated efforts of community partners. The new website allowed the organization to serve site selectors and companies looking to expand in the Kearney area, sharing valuable data and site-building information materials.
The website also speaks to current residents and those visiting the region. Trevor explains, "The website connects visitors with our partners, such as the Kearney Visitors Bureau, Kearney Area Chamber of Commerce, Buffalo County, and the communities with the county – all of which benefit stakeholders." Finally, the site serves a critical role in the Development Council's goal of better telling the story of the area, highlighting partnerships and collaboration, progressive and ambitious initiatives, successes, and assets of the region making it ripe for investment.
Trevor explains, "Like many EDOs, our time and resources are limited. Our partnership with Golden Shovel will allow us to operate at maximum efficiency by having a team of talented and experienced individuals in our corner. This allows us to keep pace with - and even surpass - larger communities and organizations in the competition for capital investment and people."
"The Golden Shovel team was honored to work with the Development Council for Buffalo County on this website project," said Aaron Brossoit, CEO of Golden Shovel Agency. "The new site will be a great asset for businesses and talent to understand the regional opportunities."
You can view the newly designed website at https://www.growbuffalocounty.com/.
###
THE DEVELOPMENT COUNCIL FOR BUFFALO COUNTY is surrounded by the perfect rural sized community with two colleges, two hospitals, and University Medical Center, top-rated schools, an abundance of parks, canals for kayaking, a community orchestra, and nine museums. Families are moving to Kearney in large numbers, both to work for companies and to start them. With incentives available through the Development Council and imagiNE Nebraska, there are financial benefits to doing so, in addition to the support offered by Nebraska BDC and the University of Nebraska. The Development Council is here to support you and your business whether you are looking at Buffalo County for the first time or have been here for decades. Contact us to discover what we can do for you.
GOLDEN SHOVEL AGENCY is a full-service economic development marketing agency that believes thriving communities improve everyone's lives. Everything it does connects businesses and talent with communities they'll succeed. It does this by empowering economic developers through groundbreaking economic development communications. Golden Shovel has helped hundreds of communities across the globe shape and tell their stories to strengthen the vitality of their regional economies.