Ozark-Dale County Economic Development Corporation Launches Business-Focused Website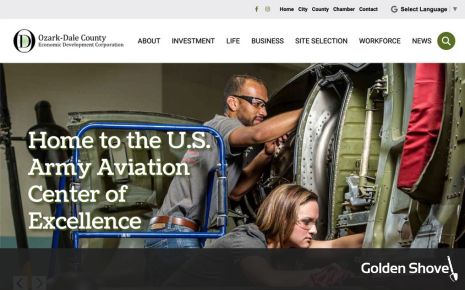 11 Apr 2023
News, Website Development, Recent Work
New Websites Engages Site Selectors, Business Owners, & Community Stakeholders
OZARK, AL -- Ozark-Dale County Economic Development Corporation (ODEDC) is pleased to announce the launch of its newly designed website, https://www.odedc.com/, in partnership with Golden Shovel Agency. The website offers a user-friendly and personalized experience and customized content for site selectors and potential businesses.
"Our website is full of useful and varied content that can be accessed and navigated in multiple ways. The site is also very personalized with real pictures from our community and links to other resources and aspects of our service area," said Holle Smith, President of ODEDC.
The new website aims to provide a fresh, brighter look with updated content and an easier and faster method of making edits and updates. Additionally, it serves as a resource for businesses interested in locating and investing in the area.
"Making our assets accessible at the fingertips of a company or site selector will speed up the process of disseminating information", said Smith.
Golden Shovel Agency provided exceptional support throughout the entire website design process. "The Golden Shovel writers were able to take the assets of our community and tell a great story with them. Each team member played an organized role that made the process much simpler than we imagined it might be," added Smith.
"We are honored to work with Ozark-Dale County Economic Development Corporation," said Aaron Brossoit, CEO of Golden Shovel Agency. "This new website will be a great asset for businesses to understand the regional opportunities."
ODEDC invites everyone to explore the new website and experience the features and personalized content firsthand. You can view the Ozark-Dale County Economic Development Board website at https://www.odedc.com/.
###
OZARK-DALE COUNTY ECONOMIC DEVELOPMENT CORPORATION is a non-profit organization dedicated to promoting economic growth and development in Ozark and Dale County, AL. ODEDC is a resource for businesses and site selectors looking to locate or expand in the area, offering various services and assistance. The organization fosters a strong business climate by collaborating with local government, community partners, and economic development organizations to promote investment and job creation. Through strategic planning and innovative initiatives, ODEDC aims to enhance the quality of life for residents and promote a prosperous future for the region.
GOLDEN SHOVEL AGENCY is a full-service economic development communications firm that helps communities, regions, and states grow and prosper. With over a decade of experience in the industry, its team of experts provides tailored solutions to attract and retain businesses, create jobs, and promote economic growth. Golden Shovel Agency specializes in website development, marketing and branding, workforce development, strategic planning, and business retention and expansion. Its innovative approach and commitment to customer service have earned them a reputation as a trusted partner in economic development.