One East Kentucky Launches a Redesigned Website to Attract Businesses to the Region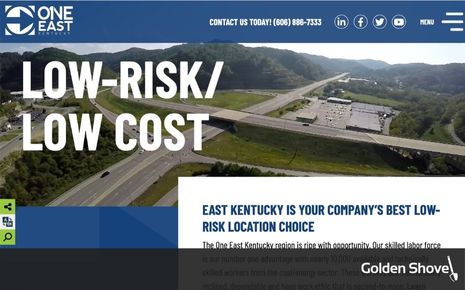 27 Mar 2023
News, Website Development, Recent Work
Leading Economic Development Organization, One East Kentucky Partners with Golden Shovel Agency to Launch Redesigned Website and Attract Businesses to the Region
PAINTSVILLE, KY -- One East Kentucky, the leading economic development organization in eastern Kentucky, is excited to announce the launch of its redesigned website (www.oneeastky.com). The website was redesigned in partnership with Golden Shovel Agency, a renowned economic development marketing and communications firm.
One East Kentucky's goal for the website was to create a user-friendly, informative platform that highlights the region's industrial sites, workforce, and communities. The new website offers advanced site selection tools, detailed maps, and comprehensive data for companies and consultants interested in investing in the region.
One East Kentucky's President & CEO, Colby Kirk, said, "My favorite thing about the redesigned website is the improved look and functionality, along with the maps which have been implemented into the homepage. We wanted to make it a friendly and functional site for companies and consultants to gather information on our available industrial sites, our workforce, and our communities."
The redesigned website emphasizes the available industrial sites and site selection tools, which will help streamline the organization's marketing efforts. Kirk added, "Streamlining our message on the homepage will make it easier for prospective companies to learn more about our region and better interact with the property listings and site selection tools we are promoting."
One East Kentucky worked closely with Golden Shovel Agency to create this website that meets the organization's needs. Kirk said, "Golden Shovel does world-class work and takes the heavy lift off organizations like One East Kentucky. If you want an economic development website done right, Golden Shovel has the go-to experts."
One East Kentucky invites businesses and consultants to explore the new website and learn more about the opportunities available in eastern Kentucky. East Kentucky is a low-cost and low-risk region for doing business with quality industrial sites and an unmatched skilled workforce. The new website will help One East Kentucky to attract more businesses to the region.
"The Golden Shovel team is always honored to work with One East Kentucky," said Aaron Brossoit, CEO of Golden Shovel Agency. "This redesigned website will be a great asset for businesses to understand the regional opportunities."
You can view the newly designed website at https://www.oneeastky.com/
###
ONE EAST KENTUCKY is the leading economic development organization in eastern Kentucky. Its mission is to attract business investments to the region and support the growth of existing businesses. It offers comprehensive site selection services, workforce development resources, and community development support to help businesses thrive in the Low-Cost and Low-Risk region. The One East Kentucky team is committed to collaborating with local and state partners to promote economic growth and create a brighter future for the people of eastern Kentucky.
GOLDEN SHOVEL AGENCY is a full-service economic development communications firm that helps communities, regions, and states grow and prosper. With over a decade of experience in the industry, its team of experts provides tailored solutions to attract and retain businesses, create jobs, and promote economic growth. Golden Shovel Agency specializes in website development, marketing and branding, workforce development, strategic planning, and business retention and expansion. Its innovative approach and commitment to customer service have earned them a reputation as a trusted partner in economic development.