Marshall Economic Development Corporation Launches New Website That Differentiates Themselves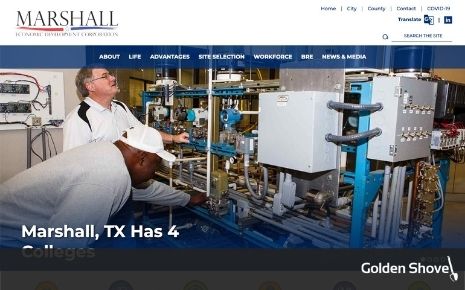 14 Feb 2022
News, Recent Work, Workforce
Website Engages Both Site Selectors and Community Members
MARSHALL, TX -- Marshall Economic Development Corporation recently launched a redesigned website, created by Golden Shovel Agency, to further strengthen its online presence and economic growth for the region. The website has a fresh and modern feel, data that can be consumed in a summary view or a detailed view, and mapping features in partnership with GIS Planning.
"I wanted our website to have a unique look and stick out from others in our region," says Rush Harris, Executive Director at Marshall EDC. "Some of our priorities for the website included having a better way to market ourselves, building out a robust workforce development section over time, and gearing pages towards site selection." Marshall EDC also looked forward to developing tools for the public and businesses to use for community data and building a stronger forum for business retention and expansion (BRE).
The website does a phenomenal job of providing data to both site selectors and the community. In addition, it gives real estate agents the ability to show and update their own programs for free.
The new website is truly a vehicle for local branding. It has given Marshall EDC the ability to develop a brand identity and encourages transparency. The site will also improve the organization's marketing efforts by providing a unique one-stop-shop for resources and data.
"We have really enjoyed working with the team at Marshall EDC," said Aaron Brossoit, CEO of Golden Shovel Agency. "This new website will be a great asset for community members, business owners, and site selectors looking for data and opportunities in the area."
You can view the newly designed website at https://www.marshalledc.org/
###
MARSHALL ECONOMIC DEVELOPMENT CORPORATION is a Type A EDC and works to develop relationships with new and existing businesses that support primary jobs. It connects with primary and secondary employers to provide data services and assistance for all businesses in the community.
GOLDEN SHOVEL AGENCY is a full-service economic development marketing agency that believes thriving communities improve everyone's lives. Everything it does connects businesses and talent with communities they'll thrive in. It does this by empowering economic developers through groundbreaking economic development communications. Golden Shovel has helped hundreds of communities across the globe shape and tell their stories to strengthen the vitality of their regional economies.