Best Economic Development Websites for 2023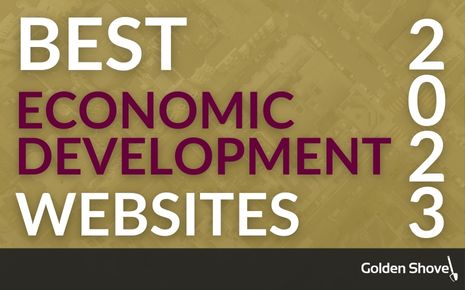 20 Dec 2022
News, Website Development
The Best Economic Development Websites for 2023 do an incredible job of telling a story through a dynamic combination of written content, images, and design. Golden Shovel Agency has selected the top EDC websites based on research, industry trends, and our experience as an international economic development communications agency.
Economic developers are investing heavily in their community's digital presence, making it challenging to select winners when so many have really upped their game. Our list is limited to the top ten winners for readability, but it was close, and our list of deserving EDCs is quite extensive. Don't see your local EDC? Contact us for a list of the best economic development websites in your state.
Best Economic Development Websites for 2023
The following organizations recently launched new economic development websites. They made our best economic development websites for 2023 list because of their unique features. When viewed collectively, they provide fantastic ideas, elements, and tools economic developers can use to enhance their website and communications strategy.
---
---
---
---
---
---
---
---
---
---
Best Economic Development Websites for 2022 Based on Your Needs
Golden Shovel Agency produces award-winning economic development websites. Our clients consistently win IEDC awards for their site's innovative designs and ability to tell a story.
How do we produce the best economic development websites? By constantly looking for what's next. As an economic development communications agency, we understand how economic developers communicate with site selectors, local businesses, workforce, and their internal stakeholders. This allows us to create thoughtful strategies and consider how individual economic developer will use their website to achieve their goals. The design, recommended tools, and integrations are a result of those conversations. The final product looks beautiful, is incredibly functional, and makes it easier for our clients to do their jobs. We care about our clients and helping them to succeed. Our approach and unmatched customer service are why economic developers consistently choose us to build their best economic development website.
Make 2023 the year your organization develops its best EDC website yet. Schedule an appointment to discover what Golden Shovel can do for you.