Seven Golden Shovel Clients Honored by the International Economic Development Council (IEDC)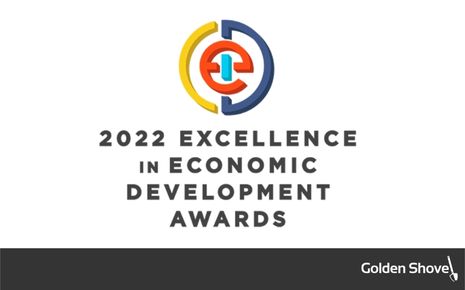 Golden Shovel Agency, an economic development communications firm, is pleased to announce that seven of the agency's clients received awards a the 2022 International Economic Development Council (IEDC) annual conference in Oklahoma City, OK. IEDC is the largest organization of economic development professionals in the world, with over 5,000 members. "It's an honor that so many of our clients to be chosen as award winners. It's also a testament to their innovative and driven approach to growing their communities. We are proud to support so many talented economic developers and their organizations," said Ron Kresha, Chief Operating Officer of Golden Shovel Agency.
"As a communications firm, our goal is to stay ahead of the trends, to identify what economic developers need to be competitive, and to deliver on that promise," said Aaron Brossoit, CEO of Golden Shovel. The awards won by these organizations have brought recognition and acclaim to their communities as the IEDC event was attended by economic development professionals and site consultants worldwide. Golden Shovel clients won awards for their websites, magazines and newsletters, digital media, multi-year economic development programs, innovative programs and initiatives, and EDO of the Year.
"Our clients are truly best in class. The economic developers we work with embody the spirit of the industry, and are true professionals and forward thinkers. As a company, our job is to support their efforts, and I am pleased with how well we have done. Congratulations to all of our clients who submitted for the IEDC awards and to the seven who were chosen," said John Marshall, President of Golden Shovel Agency.
The following is a list of Golden Shovel's clients who won an IEDC award at the 2022 conference:
Acadiana Planning Commission
Innovation Programs and Initiatives, Population more than 500,000, Silver Award
Conroe Economic Development Council
General Purpose Website, Population 25,000 - 200,000, Gold Award
Kitsap Economic Development Alliance
Digital Media, Population 200,000 - 500,000, Silver Award
Pasadena Economic Development Corporation
Magazine and Newsletter, Population 25,000 - 200,000, Silver Award
Roanoke County
Multi-Year Economic Development Program, Population 25,000 - 200,000, Silver Award
Tulsa Regional Chamber
EDO of the Year, Population more than 500,000, Silver Award
York County Development Corporation
General Purpose Website, Population less than 25,000, Bronze Award
View Golden Shovel's Client Hall of Fame for even more award recognition here.
THE INTERNATIONAL ECONOMIC DEVELOPMENT COUNCIL (IEDC) is a non-profit, non-partisan membership organization serving economic developers. With more than 5,000 members, IEDC is the largest organization of its kind. Economic developers promote economic well-being and quality of life for their communities by creating, retaining, and expanding jobs that facilitate growth, enhance wealth and provide a stable tax base. From public to private, rural to urban, and local to international, IEDC's members are engaged in the full range of economic development experience. Given the breadth of economic development work, our members are employed in various settings including local, state, provincial, and federal governments, public-private partnerships, chambers of commerce, universities, and a variety of other institutions. When we succeed, our members create high-quality jobs, develop vibrant communities, and improve the quality of life in their regions.
GOLDEN SHOVEL AGENCY brings creative energy to the work of economic development. Whether the goal is to attract and support great businesses or great talent, we are specialists in your world. We've helped more than 230 communities across North America shape and tell their stories to strengthen the vitality of their regional economies. Our core services include branding, marketing, strategy, web development, and online communications. More than that, we are a true partner to our clients.