Great River Energy Launches Redesigned Website to Serve as a Welcoming Front Door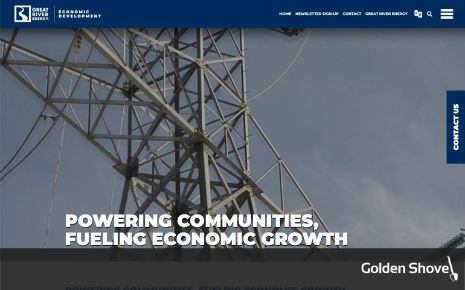 10 Feb 2022
News, Recent Work, Website Development
Website Emphasizes Site Selection & Business Attraction
MAPLE GROVE, MN -- Great River Energy recently launched a redesigned website, created by Golden Shovel Agency, to further strengthen its online presence and economic growth for the region. The website offers a fresh presentation and more fluid connection to resources for new and expanding businesses ready to grow in Great River Energy's 28 member-owner cooperative service areas.
"Great River Energy's economic development website serves as a welcoming front door for member-owner cooperatives, economic development partners, site selectors, and project leaders, connecting them seamlessly with the services and expertise of the team," says Tom Lambrecht, Economic Development Lead at Great River Energy. "In addition, the website will continue to be a primary tool in our economic development marketing initiatives."
The redesigned website hosts a variety of information, tools, and resources for a number of different audiences with an emphasis on site selection and business attraction, but also business retention and expansion, shovel-ready real estate inventory, business financing incentives, and more.
"It has been an honor to work with the team at Great River Energy," said Aaron Brossoit, CEO of Golden Shovel Agency. "The new website site will continue to be a great asset for companies and potential partners to understand opportunities in the area, as well as demonstrate their economic growth potential."
You can view the newly redesigned website at https://econdev.greatriverenergy.com
###
GREAT RIVER ENERGY and its 29 member-owner cooperatives provide electricity across 60 percent of Minnesota. It also invests in the communities served by providing economic development expertise and connecting businesses with the resources they need to grow.
GOLDEN SHOVEL AGENCY is a full-service economic development marketing agency that believes thriving communities improve everyone's lives. Everything it does connects businesses and talent with communities they'll thrive in. It does this by empowering economic developers through groundbreaking economic development communications. Golden Shovel has helped hundreds of communities across the globe shape and tell their stories to strengthen the vitality of their regional economies.