Video Services: This is the Next Wave of Economic Development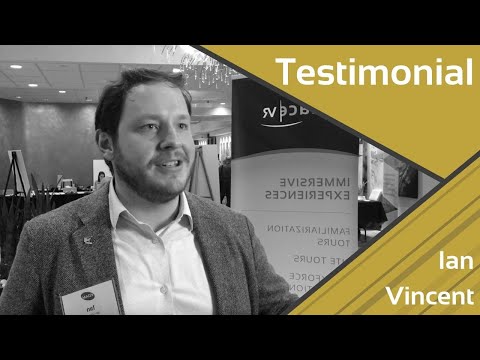 IAN VINCENT is currently the Senior Business Developer at AREA PARTNERSHIP FOR ECONOMIC EXPANSION (APEX). His key responsibilities include team leadership in transportation logistics, manufacturing, and workforce development. He played a managing role with NORTHFORCE.ORG from 2013-2018 and continues in an oversight capacity. Ian was also elected president of the DULUTH WORKFORCE DEVELOPMENT BOARD in January of 2020. With deep ties to high education and private industry, Ian maintains a thought-leading role in the region's workforce development and manufacturing communities.
Believe it or not, Ian actually fell into the economic development industry by accident! "It took me graduating with an accounting degree to realize I had no interest in being an accountant, but luckily I had taken enough other courses to acquire additional degrees in International Business, Marketing, and Film Studies (for the hell of it)," said Ian. With all of that knowledge, he was pretty much open to anything business-related and went door-to-door in Downtown Duluth with resumes in hand. Fortunately, a local foundation put him in touch with a small non-profit dedicated to connecting young career seekers with networking and entry-level opportunities in the Twin Ports. Within days he was sent an Internship Position description with a company called APEX. Ian jokes, "I had to Google 'economic development' on the way to the interview as I had never heard the term before." The rest is history.
"What I love about my job is what I've always loved since day 1 as APEX's development intern - the diversity of the projects!" said Ian. As many people have short attention spans, most people are more than willing to have a day that is different from the last. Ian loves learning about new industries and companies right in his own backyard that are doing business with all corners of the globe. Currently, he described being particularly focused on transportation logistics, manufacturing, and workforce development.
Of course, with all the fun aspects of a job, comes its challenges. Ian notes that APEX has a small staff and "MASSIVE" geography of nearly 28,000 square miles (WHICH YOU CAN VIEW ON THEIR HOMEPAGE). The APEX Region is ten counties, cross-state, and larger than the state of West Virginia, or Maryland, Massachusetts, New Jersey, and Delaware combined. So trying to stay engaged and in good-standing with industries and partners from tip to tail of the region is an ever-present challenge.
One of Ian's greatest successes was being elected to a second term as chairman of the Duluth Workforce Board, the largest WFB in the state. Having spent his career engraining himself and growing passionate about workforce development, to being honored and trusted to lead that group, really means a lot.
"My advice to new folks in economic development is to take the time early on to personally get to know your local stakeholders, thought leaders, and data people (this last one is very important)," said Ian. "Take them to lunch, learn what they do, how they do it, and why. Then assure they understand your priorities as an economic developer and the importance of business retention, expansion, and attraction. There will come many times when an RFI with a 72-hour turnaround falls in your lap - you will need gas rates, state/local incentives, and clarity on wetland delineation ASAP. But it's not an issue, as you will know exactly who to reach and won't feel bad calling your labor market analysts' personal cell at 7 PM to get a quick answer because they know you and understand the value of your work. Partnership is the name of the game," explains Ian.
Posted:
February 11, 2021