Regional Development Association of East Central Kansas Launches a New User-Friendly Website Packed with Valuable Public Resources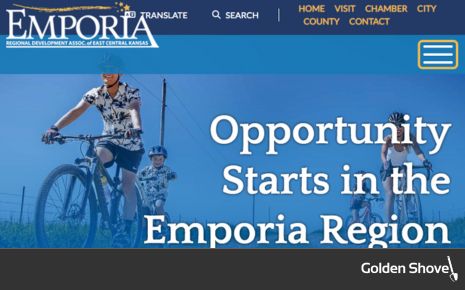 15 Aug 2023
Website Development, News, Recent Work
The Economic Development Website Provides Insightful Content for Site Selectors, Business Executives, and Individuals
8/15/2023 EMPORIA, KANSAS -- The Regional Development Association of East Central Kansas (Emporia RDA) is pleased to announce the launch of its new economic development website, developed in collaboration with Golden Shovel Agency, to enhance its online presence. Located at https://www.emporiarda.org/, the website is user-friendly whether visitors view it from their desktop or mobile device.
Chuck Scott, President, had multiple goals for their new economic development website. Chuck stated, "My first goal was to update the appearance of the old site. Secondly, it was to provide useful information and resources to the public while maintaining easy accessibility for everyone." Lastly, Chuck thought the new site was essential for increasing their marketing efforts, including getting more website traffic. "Drawing more people to our economic development website will help us to attract more visitors, businesses, and workforce to the Emporia area."
While developing the new website, Chuck Scott, a key figure in the project, emphasized Emporia RDA's strategic focus on enhancing business attraction and retention efforts. He highlighted the significance of a website aligning seamlessly with these goals. His insights shed light on the deliberate approach Emporia RDA has taken to not only create an online platform but to establish a digital hub that complements and supports its broader initiatives.
Furthermore, the implementation of the new economic development website stands to revolutionize the organization's marketing endeavors by harnessing the full potential of its multifaceted marketing channels. This strategic move towards digital empowerment will streamline and amplify the organization's outreach efforts. By consolidating information and resources onto this unified platform, the website is poised to emerge as the ultimate go-to source for the public. This consolidated approach not only enhances accessibility but also ensures consistency and accuracy in the information.
"The Golden Shovel team was honored to work with the Emporia Regional Development Association of East Central Kansas on this website project," said Aaron Brossoit, CEO of Golden Shovel Agency. "The new site will be a great asset for businesses and talent to understand Emporia's regional opportunities."
You can view the newly designed website at https://www.emporiarda.org/.
###
EMPORIA REGIONAL DEVELOPMENT ASSOCIATION OF EAST CENTRAL KANSAS exists to "proactively promote economic growth of the East Central Kansas region through commercial and industry recruitment, expansion, and training enhancements." To do so, we work with our partners to support existing businesses and attract new ones. We proactively consider what our businesses need and actively find solutions. This hands-on, service-forward approach enabled us to create over $1 billion in capital investments and 2,800 jobs since our founding.
GOLDEN SHOVEL AGENCY is a full-service economic development marketing agency that believes thriving communities improve everyone's lives. Everything it does connects businesses and talent with communities they'll succeed. It does this by empowering economic developers through groundbreaking economic development communications. Golden Shovel has helped hundreds of communities across the globe shape and tell their stories to strengthen the vitality of their regional economies.