Duncan Area Economic Development Foundation Uses PlaceVR Technology to Spotlight Workforce Education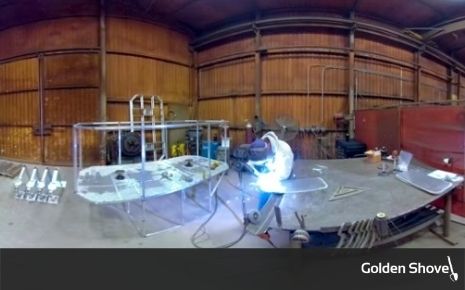 29 Oct 2020
News, Video, Recent Work, Workforce
360-Degree Video and Virtual Meetings App by Golden Shovel Agency Make it Possible to Meet With Students and Business Leaders Without Traveling
The Duncan Area Economic Development Foundation has just launched a 360-degree video that spotlights how investment in education has made its local workforce a strategic asset to companies seeking to expand or relocate to the area.
The PlaceVR division of Golden Shovel Agency produced the video that takes viewers on a tour to locations such as the local community college and university, new school district STEM facilities, and inside businesses that partner with educational organizations to equip people with the skills that companies need.
"We know that businesses need people who have up-to-date skills," said Lyle Roggow, President of the Duncan Area Economic Development Foundation (DAEDF). "By showcasing how we're helping our young people discover careers and gain skills, we're also communicating how we've prioritized workforce education to businesses that are considering expanding or relocating here."
When Roggow was first introduced to 360-degree video and PlaceVR, he knew that this was a media format that would have a "Wow" factor and it's all because of what happens in the brain when a person is viewing the 360-degree video with virtual reality goggles.
"When you're wearing the VR headset, looking all around you to experience the scene, your brain responds as though you're really in a new place," said Aaron Brossoit, CEO of Golden Shovel Agency. "This intense brain activity is what makes the message memorable, and leads to another action. For these videos that next step could be a decision by youth to check out the career pathways program; or for an investor to explore what else Duncan has to offer new businesses."
PlaceVR is leading the way when it comes to helping economic development leaders use virtual reality technology to attract attention. Along with 360-degree video production, they have developed a virtual meeting app, and are using 3D visualization to extend the experience and impact of their clients' videos.
The workforce education video is one of five videos that DAEDF has produced with Golden Shovel Agency.
DUNCAN AREA ECONOMIC DEVELOPMENT FOUNDATION - In 1993, the citizens and businesses of Duncan created the Duncan Area Economic Development Foundation (DAEDF) to promote the development of existing businesses, attract new businesses, and diversify Duncan's economic base. By simultaneously building up the local infrastructure, establishing relationships throughout the community and state, and ensuring that there is a well-trained and vital workforce, DAEDF created an attractive business climate. DAEDF has attracted businesses that provide competitive wages and make capital investments in the community, which means they are more likely to remain in the area as long-term employers.
GOLDEN SHOVEL AGENCY'S PLACEVR is a Minnesota-based full-service economic development firm specializing in workforce attraction for economic and community development. PlaceVR is a revolutionary new approach to economic development that harnesses emerging 360-degree video and virtual reality technologies to create immersive experiences that drive business and workforce recruitment. Our productions combine a depth of experience in both virtual reality production, marketing, and communications to bring to life an entirely new strategy for attracting businesses, talent, and visitors.