Best Economic Development Resources for 2022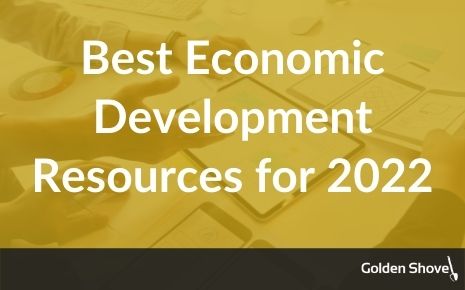 We present to you the Best Economic Development Resources for 2022. Each year, backed by research, conferences, and the latest trends, the Golden Shovel Agency team puts together a list of what we consider to be the best economic development resources.
Best Economic Development Resources
Take some time to appreciate these best economic development resources and be sure to open/download your favorites to learn from and reference during your projects.
Best Economic Development Webinars
#1 Small Business is Big Economic Development
Economic development organizations have changed to make small businesses their biggest priority. COVID-19 revealed that local businesses are the real economy that sustains community success. Small businesses also create 425% more new jobs than big businesses. The speakers cover effective tools and strategies that you can use to make sure you're implementing the best BR&E, entrepreneurship, and local business assistance. Watch the recording here.
#2 An Economic Developer's Guide to Social Media Best Practices
Are you getting the best results from social media? Every economic development organization can improve its SEO results with some simple improvements. Backed by research and extensive experience, the Golden Shovel Agency team has put together these Social Media Best Practices to help you succeed. Our presenters teach you how to optimize your profiles, grow your following, and get more leads. You'll learn about new features of each platform and walk away with tips and tricks to use every day, along with a few "hidden" best practices. Watch the recording here.
#3 Dos and Don'ts of Economic Development Websites
Your website is the most important economic development resource you'll want to focus on in 2022. A website is unlike any other marketing collateral. It's a living, breathing entity with a job to do 24/7. In order to do this, your site needs to be regularly refreshed with relevant, engaging data and SEO-friendly articles that are worthwhile to both site selectors and local businesses of all sizes and scopes. If your website isn't working as hard as you are, don't panic quite yet. We can help! We're sharing our best practices on economic development websites. Watch the recording here.
#4 Remote Work as an Economic Development Strategy: Side Hustle or Next Big Thing?
Do you want to recruit remote workers to your community but don't know how? Experienced economic developer and author Mark Lautman joined by Shelly Fausett presents information on five programs that have been proven to effectively recruit remote workers. Discover how these innovative programs can be used to build the economic base of all-sized communities, how the program works, and what you need to get started. Watch the recording here.
#5 Bridging the Gap in Small Cities & Communities
Does it seem like the major cities get all the investments and your small community is stuck with nothing? This makes your job as an economic development professional even more challenging because without those investments, the more difficult it is to meet community needs. And don't even get us started with standard banking in small cities compared to major ones. But don't worry, there's still hope for your small community. Deborah Burns teaches you how to overcome these challenges. Deborah and her team have a variety of strategic relationships that can help you seal the deal on investments, no matter how small your community. Watch the recording here.
Articles: Best Economic Development Resources of 2022
#1 Why Would My Community Want to Attract a Remote Workforce
Why would my community want to attract a remote workforce? – To grow your economy of course! The coronavirus pandemic has affected U.S. workplaces in many ways, including transitioning many employees to remote work. As some… read the full article here.
#2 Why Hiring a Local Design Firm Can Backfire
We understand that you may feel honor-bound to do business locally. In most cases, we agree. However, when it comes to creating your online presence, that choice may be detrimental to the very community you're working so hard to serve… read the full article here.
#3 10 Things Economic Developers Must Know About Opportunity Zones
Ten things economic developers must know about Opportunity Zones include what an Opportunity Zone is, how many there are, your role in attracting investors to your community, and more. Let's walk through them… read the full article here.
#4 How To Create a Digital Marketing Plan
As an economic developer, you are your community's hero. You fight the good fight to bring in jobs, and investment, improve quality of life, and solve workforce challenges. If there's an issue - you're the hero standing in the breach. We understand you're busy… read the full article here.
#5 7 Things Your Economic Development Website Needs
There are seven things every economic development website needs. Before we get started, ask yourself, are most of your leads coming from your website? Are you confident your website is generating as many qualified leads as possible? If you… read the full article here.
Best Economic Development eBooks
#1 An Economic Developer's Guide to Social Media Best Practices
Download to:
Gain an understanding of top-ranking social platforms
How to leverage social media to bring attention to your organization
Why now is so important to be on top of social media
Strategies for how to make your posts stand out
Download the eBook here.
#2 Rethinking Workforce Attraction in the Age of Remote Work
Download to receive:
Key statistics about remote workers
How to attract a remote workforce
Ripple effects of remote workers in your community
Value of remote workers
6 useful case studies
Download the eBook here.
#3 Economic Development Website Design Project Planning Guide
Download to receive:
Checklist of items you might want on your website (bring this to your research/discovery calls)
Project timelines
Questions to ask if you're ready for a new website
Important enterprise-level hosting & security options
Learn how to optimize your best economic development resource for 2022
Download the eBook here.
#4 Step-By-Step Guide to Marketing Opportunity Zones for Economic Developers
Download for:
Gain an understanding of Opportunity Zones
How to leverage Opportunity Zones to spur investment & economic growth
Why now is the right time to market
Strategies for how to utilize investments
Download the eBook here.
#5 An Economic Developer's Guide to Video Marketing
Download for:
The latest trends on different types of videos used by economic developers
Actionable tips that you can apply to your video strategy immediately
Case studies from real economic developers who have successfully utilized these techniques
A comparison between types of video and how to use them
Download the eBook here.
Podcasts: The Best Economic Development Resources for 2022
The Golden Shovel podcast, "ShovelTalk'' is hosted by Bethany, Amanda, and Darren, where they take you behind the scenes of local economic development and get to know the people behind thriving communities. Listen as we explore career paths, unique projects, goals, family life, hobbies, and even get advice for those working to make their communities better. Subscribe on your favorite podcast app!
#1 Eyes Wide Open ft. Horton Hobbs, Greater Springfield Chamber of Commerce
Bethany and Amanda interview Horton Hobbs, VP of Economic Development at Greater Springfield Chamber of Commerce. Find out what it was like growing up around notable scientists, how he ended up working in economic development, and how his team has handled the pandemic. Horton shares the advice he's received along his career path and even gives us a glimpse into his family life. Listen to the episode here.
#2 From the Projects of DC to Rural Nebraska ft. Garry Clark, (formerly) Greater Fremont Nebraska Development Council
Bethany and Amanda follow the journey of Garry Clark, (formerly) President and CEO of the Greater Fremont, Nebraska Development Council, published author, and public speaker. Listen as he shares his experience growing up in the projects of Washington D.C. and the career path that leads him to rural Nebraska. Garry shares his motto of resiliency through COVID-19 and advice for tackling fear. Stick around until the end to hear the story behind his stape, everyday neckwear - his bowtie. Listen to the episode here.
#3 A NextGen Economic Developer Tackles Transitioning Economies ft. Sara Harris, Midland Development Corporation
Sara Harris is the next generation of economic developers and she's tackling a legacy challenge - transitioning an energy economy into one that is diverse and attractive to younger residents. Her strategies and the collaborative efforts of the MDC are working. A historic oil and gas community, Midland is undergoing a transformation with notable achievements that include being recognized as a startup hub and developing a Spaceport Business Park. Listen to the episode here.
#4 Connecting a REgion, Tribes, and States in a Shared Vision for the Future ft. Arvin Trujillo, Four Corners Economic Development
As a passionate advocate for his community and tribe, Arvin Trujillo builds bridges between a wide group of stakeholders and communities. His approach to economic development is collaborative and inclusive - something that has made it possible for historic agreements to be reached and projects to be completed. Learn from his strategic approach to community building that is both optimistic and forward-thinking. This is a must-listen for anyone looking to collaborate on a broader scale or promote a regional mindset. Listen to the episode here.
#5 Powerful Things Come in Small Packages ft. Amy Madison, Pflugerville Community Development Corporation
From the smallest kid in school to the largest presence in Pflugerville's economic development, Amy Madison's journey is one of grit, constant determination, and the refusal to take "no" for an answer. Join us to learn more about Amy's journey, how her refusal to accept "no" has won dollars and projects for her community, and to hear funny stories from her childhood and past economic development conferences. You won't want to miss it! Listen to the episode here.
The Best Economic Development Resources of 2022 Are Comprehensive
We've covered a lot here, and for good reason! The best economic development resources of 2022 are not found in one medium. Podcasts are amazing, but they won't cut it on their own. Nor will articles, etc. As an economic developer, you need to receive information from multiple sources to gain the full depth of understanding of issues. Golden Shovel Agency will continue to promote resources that we, and others, create so you can gain the knowledge necessary to achieve big things for your community.