Benton Economic Partnership Inc. Launches Newly Redesigned Website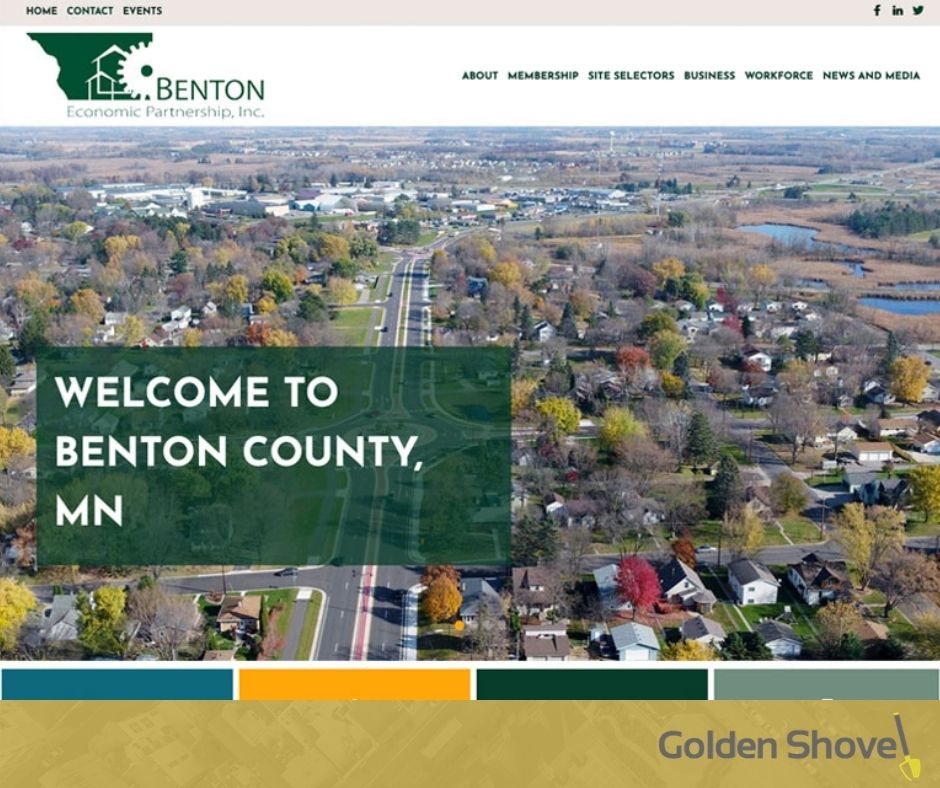 24 May 2021
News, Recent Work, Press Release
FOLEY, MN -- Benton Economic Partnership recently launched a newly redesigned website, created by Golden Shovel Agency. The new site has a clean, modern design that is easily navigable and simple to digest.
One of the main goals of the website redesign project was to speak to different audiences in ways that resonate with each of them. Site selectors and business leaders can get information about available properties along with incentives and business resources. It also features community profiles that highlight each of the cities the Benton Economic Partnership serves. The website is also beneficial to current residents through local job listings, news, and media.
"Our website is really a one-stop-shop, where you can find all the tools for growing, expanding, or relocating your business to Benton County," said Amanda Othoudt, Executive Director for Benton Economic Partnership.
Through the website redesign process, the Benton Economic Partnership aimed to highlight business attraction and available land. Established as one of Minnesota's original nine counties, Benton County has a long track record of success. There is a nice mix of rural and urban land with great access to major highways and a regional airport.
The Benton Economic Partnership collaborated with Golden Shovel Agency for its website design project. The national economic development communications firm is recognized for its award-winning design and expertise in business and workforce attraction. "Golden Shovel Agency has been great to work with," said Amanda. "They keep content fresh and they are quick to respond to any updates or changes. It's like having a marketing team in your back pocket."
"It is always a treat for the Golden Shovel team to work with the Benton Economic Partnership and we look forward to seeing the continued growth of the region, especially through the marketing efforts like this redesigned website," said Aaron Brossoit, CEO of Golden Shovel Agency.
You can view the newly redesigned website here.
###
BENTON ECONOMIC PARTNERSHIP INC. is a 501(c)3 nonprofit economic development organization committed to encouraging and leading economic development efforts throughout Benton County. It is committed to business retention and expansion, downtown redevelopment, workforce development, marketing the county, and quality of life initiatives. Learn more here.
GOLDEN SHOVEL AGENCY is a full-service economic development marketing agency. Whether the goal is to attract and support great businesses or great talent, we are your specialists in the industry. We've helped hundreds of communities across North America shape and tell their stories to strengthen the vitality of their regional economies. Learn more here.