Faulkton Area Economic Development Launches Newly Designed Website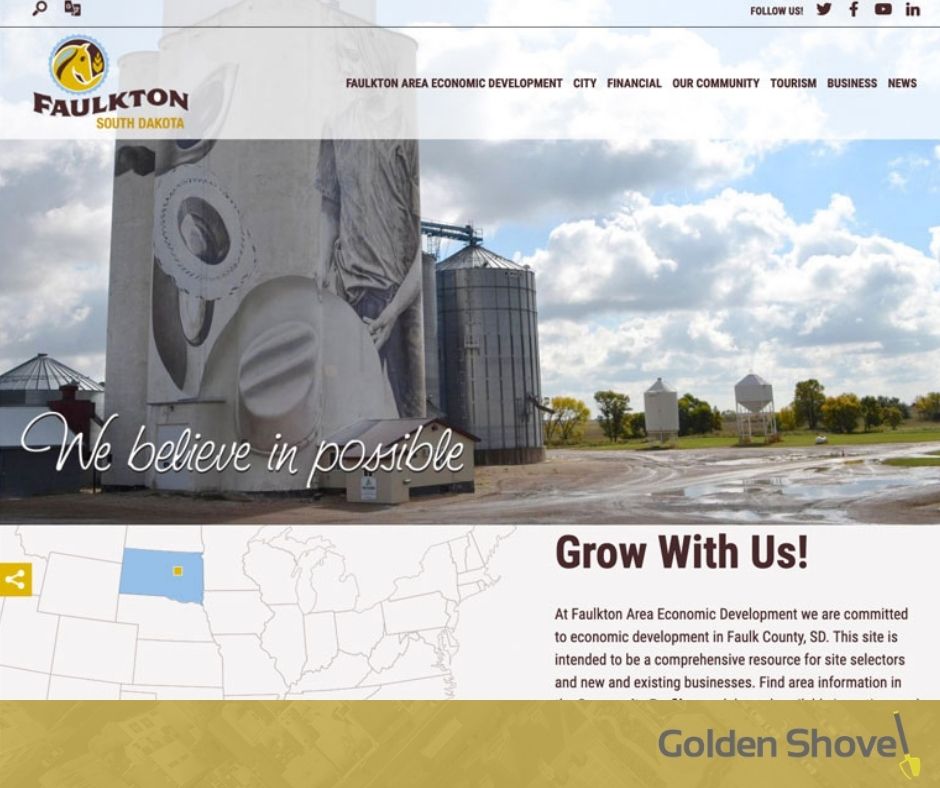 4 Feb 2021
News, Press Release, Recent Work
FAULKTON, SD -- Faulkton Area Economic Development (FAEDC) recently launched a newly designed website, created by Golden Shovel Agency, to further strengthen its online presence and economic growth. The new site includes a visually pleasing layout and is much more user-friendly.
"Our organization really wanted to highlight the uniqueness of our community and all it has to offer, whether it be a place to visit or a place to move to," said Linda Bartholomew, Secretary Board Direct at Falkton, Area Economic Development. "Either way, people who land in Faulkton, SD will be embraced by a welcoming community."
FAEDC has always prided itself in the friendliness of the people and in being a place that has a "can-do" attitude. The motto, "We Believe In Possible," is evident throughout the new site. The website will also improve the organization's marketing efforts by keeping content relevant and up-to-date, as well as having a tool that is visually appealing and easy to use.
FAEDC collaborated with Golden Shovel Agency for its website design project. The national economic development communications firm is recognized for its award-winning design and expertise in business and workforce attraction. "The Golden Shovel team has always been easy to work with and very accommodating to our needs," said Linda.
"We have enjoyed our time working with Faulkton Area Economic Development on this website design project and we look forward to seeing the results that come along with this new resource," said John Marshall, President of Golden Shovel Agency.
You can view the newly designed website here.
FAULKTON AREA ECONOMIC DEVELOPMENT is dedicated to improving the economic health of Faulkton, SD and the surrounding area and has been instrumental in the construction of new housing developments, as well as helping businesses grow and expand. FAEDC believes that by honoring the past, maintaining the present, and planning for the future, Faulkton will continue to be the strong and vibrant community it is today. Learn more here.
GOLDEN SHOVEL AGENCY is a full-service economic development marketing agency. Whether the goal is to attract and support great businesses or great talent, we are your specialists in the industry. We've helped hundreds of communities across North America to shape and tell their stories in order to strengthen the vitality of their regional economies. Learn more here.