Thayer County Economic Development Alliance Launches Newly Designed Website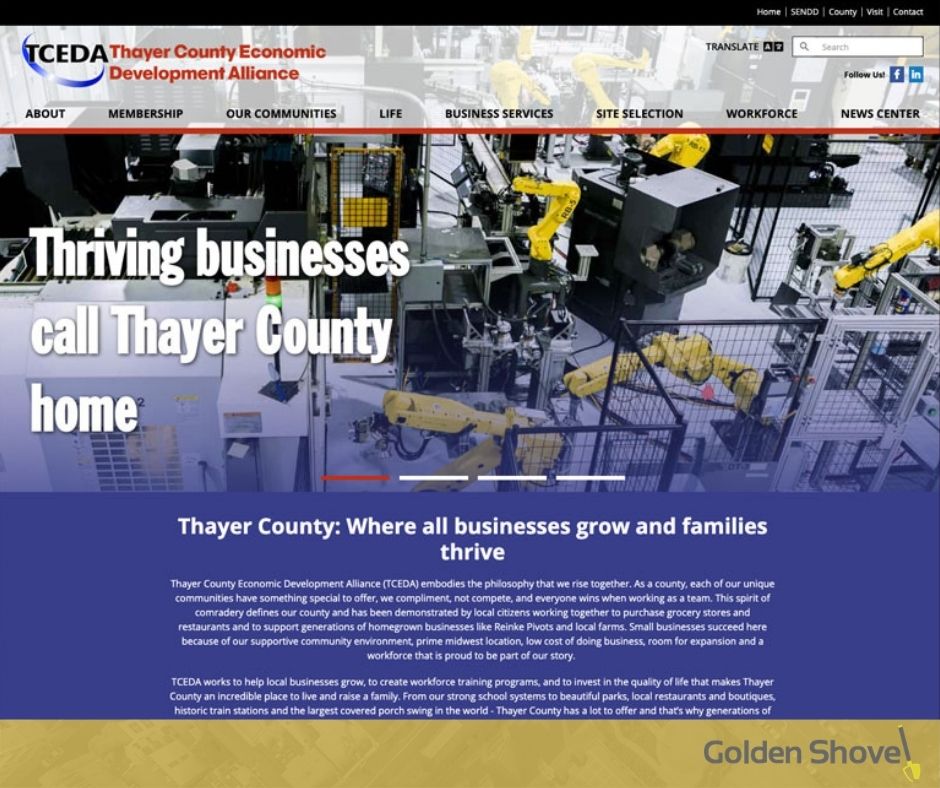 1 Feb 2021
News, Recent Work, Press Release
HEBRON, NE -- Thayer County Economic Development Alliance (TCEDA) recently launched a newly designed website, created by Golden Shovel Agency, to further strengthen its online presence and economic growth. The new site is sleek and user-friendly for site selectors and the general public. It features large images and you can even create a printable custom report from the information found on the site.
"Now, more than ever, businesses and organizations need to be online with their resources and information at people's fingertips," said Carley Bruning, Executive Director at TCEDA. "It was important for Thayer County to have a one-stop website full of resources to help create a unified, county-wide community. We want to share our thriving story across the state and beyond while encouraging people to relocate here, as well as offer our organization's members more benefits.
The theme, "Thayer County: Where all businesses grow and families thrive," is apparent throughout the entire site and sends a message about business attraction and entrepreneurship.
TCEDA collaborated with Golden Shovel Agency for its design project. The national economic development communications firm is recognized for its award-winning design and expertise in business and workforce attraction. Golden Shovel will also be writing and posting on TCEDA's behalf, giving them more time to devote to other economic development efforts. In many rural communities, there are amazing stories to be told but not the extra staff to help write and market them.
"When the board and I compared websites to Golden Shovel's, we all agree that this product and service was what we needed to take our organization to the next level," said Carley. "Golden Shovel's customer service is also so awesome; I truly feel like they want to see our organization and communities thrive."
"Working with Carley and the Thayer County Economic Development Alliance on this website design project has been a great experience. We look forward to seeing the results that come along with this new resource," said Ron Kresha, COO/CFO of Golden Shovel Agency.
You can view the newly designed website here.
###
THAYER COUNTY ECONOMIC DEVELOPMENT ALLIANCE is a county-wide partnership working together to provide a strong economic base and quality of life for all Thayer County residents. We here at Thayer County want to see the county thrive, not just survive. Learn more here.
GOLDEN SHOVEL AGENCY is a full-service economic development marketing agency. Whether the goal is to attract and support great businesses or great talent, we are your specialists in the industry. We've helped hundreds of communities across North America to shape and tell their stories in order to strengthen the vitality of their regional economies. Learn more here.
Get our free eBook: Rethinking Workforce Attraction in the Age of Remote Work