Powder River Energy Corporation Launches Redesigned Website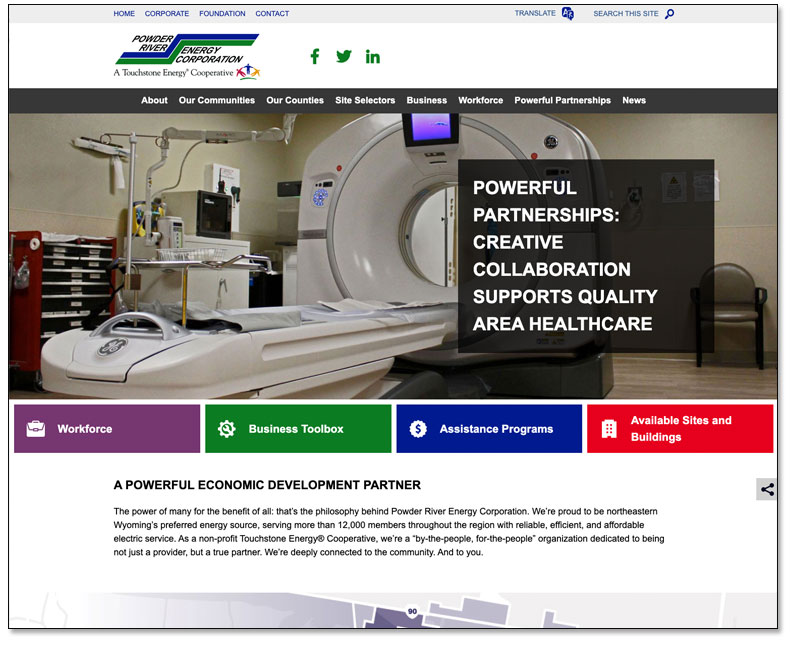 13 Mar 2020
News, Press Release, Recent Work
Powder River Energy Corporation Launches Newly Redesigned Website
SUNDANCE, WY-- Powder River Energy Corporation (PRECorp) recently launched a redesigned website to further strengthen its online presence and raise awareness and interest in the communities in Northeast Wyoming.
"Having this newly designed website provides a focal point for PRECorp to build awareness around the many amenities and virtues of the communities we serve. It's a tangible resource for both the existing businesses in the community and for helping attract new businesses," said Jeff Bumgarner, PRECorp's Vice-President of Member Service and Executive Director of the PRECorp Foundation.
The comprehensive website is easy to navigate and includes customized reporting features. It will be a valuable tool for site selectors and businesses as it includes relevant information about the area's demographics, workforce, available sites, community comparisons, and more.
"PRECorp is pleased we can support our communities in their economic development and contribute, if only in a small way, to the quality of life in Northeast Wyoming," said Bumgarner.
A priority of the project was to provide a one-stop information website where businesses looking to grow, business startups, and existing businesses looking to relocate, can find the tools and resources they need. PRECorp was determined to do its part to assist its local economies and communities to prosper and continue to be great places to live and work.
PRECorp selected Golden Shovel Agency to redesign the website. The national economic development communications firm is recognized for its award-winning design and expertise in business and workforce attraction.
"Working with Powder River Energy Corporation on this redesign project has been a great experience. The customized online portal really highlights the community's assets and demonstrates its economic growth potential," said Aaron Brossoit, CEO of Golden Shovel.
View the redesigned website here.
***
About Powder River Energy Corporation
Powder River Energy Corporation is a non-profit Touchstone Energy Cooperative dedicated to being not just a provider, but a true partner. It's delighted to be northeastern Wyoming's preferred energy source, serving more than 12,000 member/owners throughout the region. There is no better place for a business to thrive than in northern Wyoming, with its established transportation infrastructure, training resources, and available workforce, tax advantages, and world-class beauty that people fall in love with.
About Golden Shovel Agency
Golden Shovel Agency is a Minnesota-based, full-service marketing agency specializing in groundbreaking economic development communications. The Economic Gateway Web system includes an expandable and on-demand content management system (CMS) and a robust social media implementation strategy.