New Website Highlights Business Opportunities in Palestine, Texas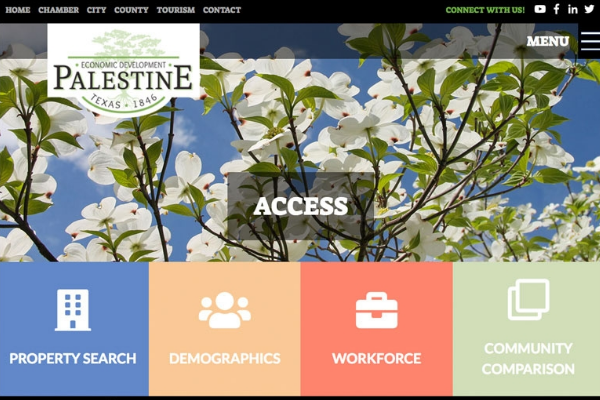 26 Mar 2019
News, Press Release, Recent Work
Palestine, TX – Palestine Economic Development Corporation (PEDC) has unveiled a redesigned online portal to showcase the many business opportunities and assets in Palestine, Texas. The website serves as an important resource for site selectors and businesses looking to locate to the area.
The website is attractive, easy-to-use and comprehensive — strengthening the organization's online presence and providing vital facts for site selectors and corporate investors. It also provides powerful GIS Planning tools that pinpoint available properties and enable community comparisons and auto- population of the area's demographics and labor force.
Additionally, prospective residents can find details about Palestine's quality of life, recreation, festivals, arts and culture showcased on the website.
PEDC selected Golden Shovel Agency for the redesign. The national economic development communications firm is recognized for its award-winning design and expertise in business and workforce attraction.
"I had worked with Golden Shovel in another community and found them to be highly creative, accommodating and professional. I was delighted to have the opportunity to work with them again here in Palestine," said Gayle Cooper, PEDC director.
"We enjoyed working with PEDC to develop an economic development portal that's tailored to the region's development needs. The site is a comprehensive representation of Palestine's business opportunities and strong growth potential," said Aaron Brossoit, CEO of Golden Shovel.
Palestine Economic Development Corporation (PEDC) is a Type B Texas economic development corporation established under the Development Corporation Act of 1979. The corporation is funded by ¼ cent city sales tax revenue. Its primary mission is to provide the City of Palestine with the capital investment and jobs required to build a successful career and lifestyle for the city's residents.
Visit the new site at: http://www.palestinetexas.net/