Opportunity Zone "Investment Ready" - Is Your Community Ready?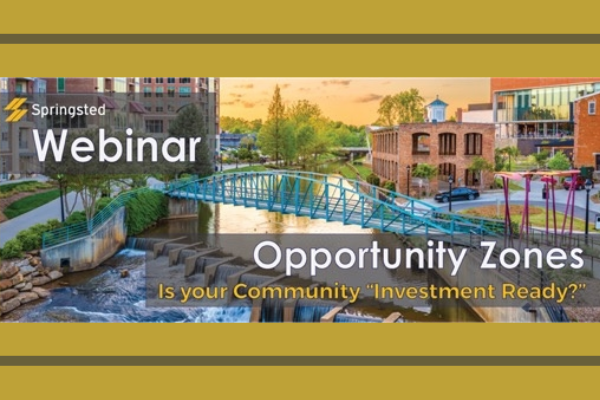 What does it mean and what a community can do to attract investments?
Save the date for January 17th, for an indepth look at becoming investment ready in your community during our expert webinar. Register here.
While the idea behind Opportunity Zones has been in the works for over 10 years, it was the passage of the 2017 Tax Cuts and Jobs Act that finally brought them into being. Congress' main goal for establishing Opportunity Zones, is to support investments in low-income neighborhoods by letting individuals and corporations capture unrealized capital gains through long-term investments in designated census tracts.
In return, private investors get a significant Federal tax advantage if they hold their funds in the Zone for up to 10 years.
Since Opportunity Zones are targeted directly at private-sector investors, most of the conversation to date and the information about Opportunity Zones and Funds has been focused on how individuals and corporations can utilize the program to meet their tax and return-on-investment goals.
Springsted's Housing and Economic Development (HED) clients come only from the public and non-profit sectors, rather than private-sector investors, during this webinar we are taking a different approach by focusing on what local development leaders can do to become "Investment Ready" in their local area and how they can encourage projects that meet their community's goals.
"Economic Developers want to increase their chances to attract capital to their Opportunity Zone and improve their community. Being "Investment Ready" is the key to attracting potential investors – Springsted partners with communities to help them build their future and that's why we are doing this webinar" - Gene Goddard, Senior Vice President/Consultant Housing & Economic Development on why Economic Developers and community leaders should attend the webinar.
Some of the concepts that will be discussed in the upcoming webinar will be:
How to use similar concepts like "Shovel Ready" to help you to become Opportunity Zone "Investment Ready."
How to create economic and housing development policies and procedures that support Opportunity Zone projects.
How to create materials and messaging that meets an certified-investor or Opportunity Zone Fund's investment strategy.
How to target local investors that share the vision and values of your community.
How you can help encourage Opportunity Zone investments that meet your community's goals.
Be sure to register for the webinar on January 17th at 1 PM Central, the webinar is free to attend but registration is required. Register here.