Expert Webinar: Being Opportunity Zone "Investment Ready"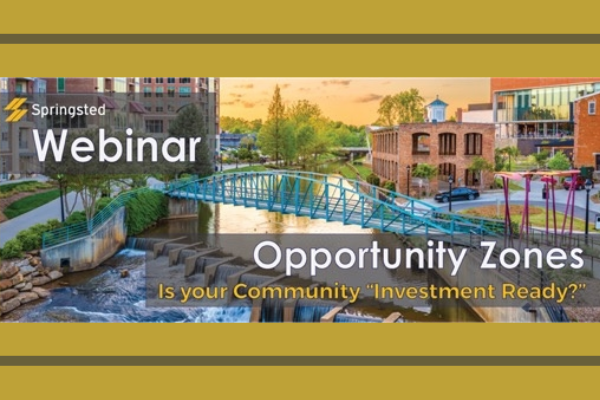 January 17•1:00 PM - 2:00 PM

Online Session

Time: 1:00 PM - 2:00 PM
What does it mean and what a community can do to attract investments?
Opportunity Zone's have been the talk of the Economic Development world throughout 2018, most of the conversation to date has been targeted directly at private-sector investors and how individual corporations can utilize the program to meet their tax goals.
Springsted's Housing and Economic Development (HED) clients come only from the public and non-profit sectors. During this Opportunity Zone Webinar, the focus is what local development leaders can do to become "Investment Ready" and how to encourage projects that meet their community's goals in 2019 and beyond.
Some concepts that will be covered during the webinar:
How to use similar concepts like "Shovel Ready" to help you to become Opportunity Zone "Investment Ready."
How to create economic and housing development policies and procedures that support Opportunity Zone projects.
How to create materials and messaging that meets an certified-investor or Opportunity Zone Fund's investment strategy.
How to target local investors that share the vision and values of your community.
How you can help encourage Opportunity Zone investments that meet your community's goals.
About Springsted:
The Springsted Group provides high quality, independent financial and management advisory services to public and non-profit organizations, and works with them in the long-term process of building their communities on a fiscally sound and well-managed basis. Our Housing and Economic Development (HED) practice group works with communities to help them with strategic planning and concept development through construction, to project finance and performance to annual monitoring. Springsted's comprehensive approach provides expert advice, management and oversight services to our valued clients. "We help communities build their future."
Springsted is one of the largest and most established independent public sector advisory firms in the United States. Headquartered in Saint Paul and offices in multiple states, the firm is able to support communities across the nation.
The webinar will be January 17th, 2019, 1:00 PM - 2:00 PM and you can attend at no charge but space is limited and registration is required.