Guadalupe Valley Electric Cooperative has launched a brand new website!
Tuesday, December 08, 2015
We love to share good news and this time are pleased to announce the launching of the brand new Guadalupe Valley Electric Cooperative website, located in Gonzales, TX!
Guadalupe Valley Electric Cooperative is one of the largest and most respected cooperatives in Texas and we are proud for having been selected to build their new economic development website! They serve over 85,000 consumers, however the site is not just about electricity, it's also about people. Guadalupe Valley Electric Cooperative was looking for an effective way to communicate with both businesses they serve and ones considering the region. Golden Shovel was able to fulfill the goals by building a website that feels fresh and progressive by making it fully responsive and accessible from mobile phones, tablets and computer browsers.
We worked closely with their to create a design that reflects the impact they have on economic development across Texas. The new website offers an experience authentic to the region and provides site selectors, business owners and stakeholders with a wide array of tools and resources to support economic growth. Check out the new website here: Guadalupe Valley Electric Cooperative, Inc.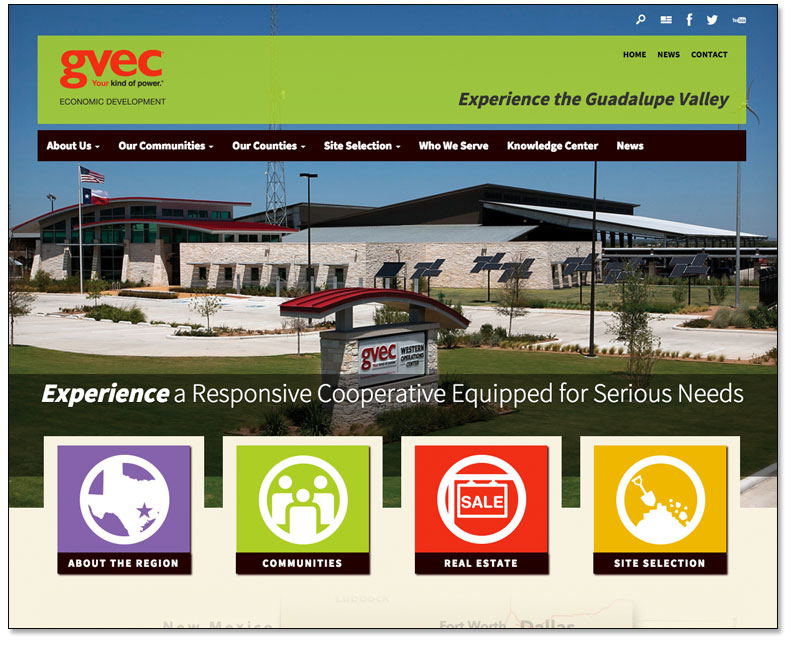 Category: Economic Development News